Shower chairs are assistive bathing devices which ensure the safety and comfort of those who have difficulty standing in the shower.
Features to consider when purchasing a shower chair
Weight capacity: standard or bariatric?
One of the first choices for a customer to make in regards to a shower chair is weight capacity. Shower chairs are available in a variety of sizes in order to accommodate the needs of a variety of customers; therefore, support size is an important factor to consider.
Weight capacity of a shower chair ranges between 250 pounds all the way up to 400 pounds.
For individuals with less body mass, a standard shower commode will be more than sufficient at providing stability. For heavier individuals, a bariatric model is recommended.
Construction: aluminum or plastic?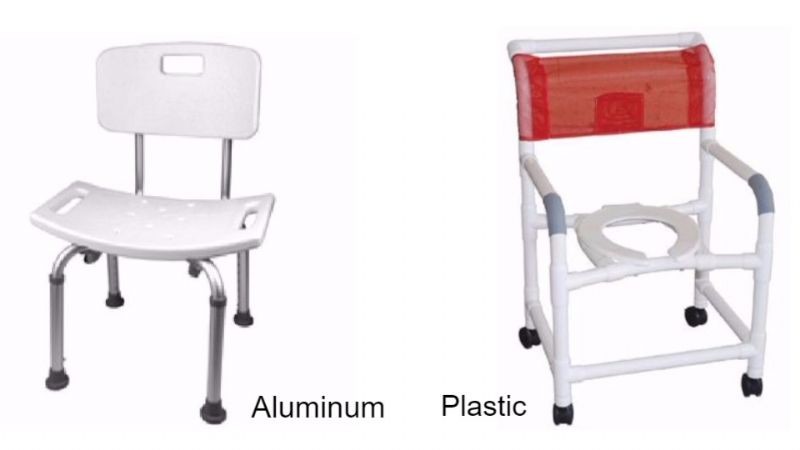 Shower chairs vary in the materials from which they are constructed. Some chairs are exclusively composed of plastic materials, while others feature aluminum construction.
The choice of which frame material is superior is entirely up to the customer. Aluminum tends to be at the higher end of the price point, while models constructed out of plastic or PVC piping tend to be lower in cost. Aesthetic is a factor when selecting a frame, but both models will support the weight of users with integrity.
Some users prefer a chair that allows more give in the back and seat region. For these individuals, a mesh-backed chair is recommended. Others preferring a more firm, sturdy sitting surface would want to look for material which is more snug.
Size: compact or basic?
Although most shower chairs are designed to be compact enough to fit in a standard shower, it should be noted that not all showers are the same size.
For smaller bathing quarters, a compact shower chair would be an ideal fit. For standard size bathrooms/bathtubs, basic or bariatric size shower chairs are likely to be compatible.
It is highly recommended that customers know the measurements of the shower in which they will use the shower chair, as this will allow them to be certain that they are purchasing a chair that will fit within the shower's dimensions.
Mobility: fixed or portable?
As shower chairs differ in construction and size, naturally their weights differ as well.
Many chairs are available with locking casters to ensure safe transfers to and from the bath. Other models do not have wheels, and rely on a safe-grip leg coverings to prevent the chair from sliding around.
Additionally, the weight of the chair itself plays a large factor in choosing a chair. For customers who are uncertain about their ability to lift a chair in and out of the bath, the aforementioned wheeled options are a popular alternative.
Design: upright or recumbent?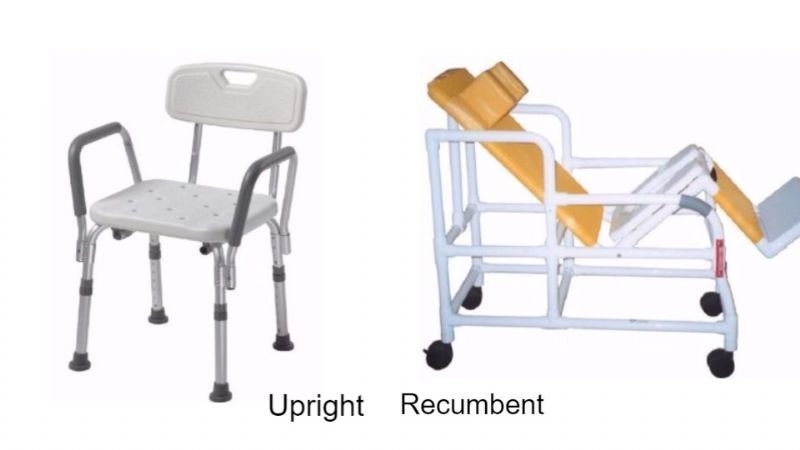 For many users, the ability to receive sturdy back support or lean back in their shower chair is a necessity. Particularly for individuals receiving assistance from a caregiver, having the option to lean back will assist in the process of bathing. Many shower chairs are designed with recumbent features, offering reclining backrests as well as rising legrests.
For users who do not need recumbent backing, several of the shower chairs in Rehabmart's product catalog are designed with fixed backs.
Usage: commode or no commode?
Many shower chairs choose to combine the features of a commode (toilet) into their shower chair design. This is done by fashioning the seat of the shower chair into an opening capable of being placed over a standard toilet, allowing users to go to the bathroom.
Users and caregivers can both benefit from this dual functionality, as the commode helps eliminate an additional patient transfer when limited mobility users are performing their bathroom routine.
For individuals who don't need the added functionality of a commode, a shower chair with a solid seat will do just fine.
Standout brands in shower chairs
The selection of shower chairs available from RehabMart features a wide variety of different formats and styles. These high-quality shower chairs are produced by trusted and reliable medical equipment manufacturers such as Medline, TeakWorks4U, Provider Health Systems, Mabis HealthSmart, and Drive Medical.
Each shower chair produced by these companies has its distinct advantages and disadvantages, and you can read more about them in our article, The 5 Best Shower Chairs!
What else do I need to know about shower chairs?
Shower chairs are effective safety aides for those who have difficulty keeping their balance while in the shower or bathtub. Bathing is a daily routine enjoyed by most adults, but too often those who are elderly or disabled find bathing to be both dangerous and difficult.
The process of aging is nearly always accompanied by a decline in leg strength and stability. Shower chairs are an important tool in helping people maintain their independence, and can restore a sense of joy to an activity done on a routine basis.
Shower chairs typically feature adjustable legrests and backrests, designed to comfortably accommodate the height of the person who is using it. They are also built with rubber footing, to avoid any chair slippage while in a wet tub. Shower chairs often have porous surfaces (particularly on the seat) to prevent standing water build-up during the bathing process.
Despite the utility and value of a shower chair, it should be noted they are specialized primarily for safety once the user is in the shower or bathtub.
For those whose mobility or stability are limited to the point where entering and exiting a bathtub are risk factors, powered bath lifts may be a safer choice. Power bath lifts assist in the process of transitioning in and out of the bath, along with providing a secure place for users to sit.
Who uses shower chairs?
Because shower chairs are specially designed to accommodate the needs of all body types, heights, and weights, shower chairs can be used by a broad range of individuals. Elderly and disabled persons will benefit from using shower chairs specifically, along with any person limited in mobility - either temporarily, or permanently.
1.6 million older Americans are seen in the emergency room each year due to fall-related injuries, and tools such as shower chairs play an important role limiting the risk of falls in slippery situations.
By implementing use of a shower chair, you can rest assured your loved one won't be one of those visits.
How would a shower chair benefit me or my loved one?
Shower chairs are a relatively inexpensive solution to the highly dangerous problem of fall-related injuries at home.
Bathrooms (and bathing areas, in particular) are one of the highest-risk areas for loss of balance. The simple addition of a shower chair, upon which you or your loved one can sit while bathing, drastically reduces the risk of falling while in the shower.
Thanks to the variety of sizes, styles, and formats now seen in shower chairs, individuals shopping for a chair can be confident there is a model best suited for their unique needs.
For example, if your loved one is at a high risk of falling in the shower, shower chairs that assist in sitting, turning, and leaning back are available (and recommended). On the other hand, if your loved one only has a slight risk of falling, more cost-effective options are available that bear fewer additional features.
Regardless of the model you choose, all bath chairs supply a sturdy, safe surface upon which your loved one can rest while bathing, and greater peace of mind for loved ones.
Does Medicare cover the cost of a shower chair?
Unfortunately, Medicare, both Part A and Part B, does not cover the cost of a shower chair—or any bathroom related products meant for comfort, for that matter. In order to be covered by Medicare, assistive equipment must be classified as "durable medical equipment" and meet a variety of criteria.
However, shower chairs are less expensive than many assistive medical products, making them a more affordable tool for patients and loved ones alike.
Does private insurance cover the cost of a shower chair?
In brief, every insurance policy is different. While most private insurance policies tend to follow the lead of Medicare, it's worth looking into your personal policy to see which specific coverages you have. Your policy's coverage regarding bathroom assistive equipment would provide the clearest answer.
Summary
Purchasing a shower chair is often one of the first measures taken to establish a safer, more comfortable experience while bathing. RehabMart is here for you every step of the way, from researching which product is best for you or your loved one to delivering it to your home.
Check out our list of The 5 Best Shower Chairs and The 5 Best Shower Commode Chairs to learn more about which products may best suit your needs.
You can view Rehabmart's full catalog of bath chairs here.
Want to learn even more? Find dozens of videos featuring products and caregiver tips like these at Rehabmart's YouTube channel!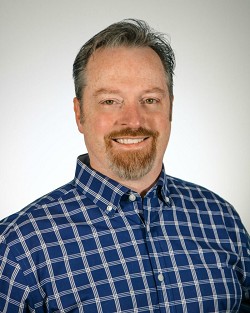 Author:
Co-Founder of Rehabmart and an Occupational Therapist since 1993. Mike has spent his professional career working in multiple areas of Occupational Therapy, including pediatrics, geriatrics, hand therapy, ergonomics and inpatient / outpatient rehabilitation. Mike enjoys writing articles that help people solve complex therapeutic problems and make better product choices.