Wheelchairs are specially designed medical chairs outfitted with wheels and designed to aid individuals with limited mobility in transportation.
Features to consider when purchasing a wheelchair
Wheelchair operation - manual or powered?
Wheelchairs are typically categorized into two separate fields: manual wheelchairs, and powered wheelchairs.
Manual wheelchairs can be operated one of two ways: with the help of a caregiver pushing from behind, or the patient propelling the wheelchair by gripping the wheel area, and pushing in the direction they wish to go.
Powered wheelchairs, on the other hand, use a fully electrical system directed by a control stick operated by the patient.
Different patients have different physical needs, for this reason, it's important to consider which type of wheelchair operation best suits you or the one you love. For users who possess a good amount of upper body strength, or are only limited in mobility from the waist down, a manual wheelchair can be a great choice. A manual wheelchair can help the user retain upper body muscle strength and allowing them to play an active role in their mobility.
A powered wheelchair is better suited for an individual who cannot wheel themselves, or who spends a significant amount of time in a wheelchair and cannot sustain their own transport on physical strength alone. Good examples of this would be limited mobility students navigating a college campus in their wheelchair, or users who still desire to go on leisurely walks around the neighborhood.
Wheelchair portability - necessary or unnecessary?
For many patients and caregivers, wheelchair portability and necessary storage space make a big difference in the wheelchair model they select.
With this in mind, many models - particularly manual wheelchair models - are designed to be easy to fold and store.
Whether through folding or being rapidly and conveniently disassembled, a wheelchair's ability to become compact can be one of its largest selling points.
Therefore, customers who are likely to take their wheelchair with them for travel, or those who need to store the wheelchair when it's not in use should consider a wheelchair's portability prior to making a purchase.
Design - reclining or upright?
Similar to ergonomic designs for wheelchairs, reclining wheelchairs are constructed for patients who will spend extended amounts of time in their wheelchairs, and desire a degree of flexibility.
As the name implies, reclining wheelchairs are capable of adjusting backwards, with many extending close to an entirely flat resting surface.
For patients who spend the majority of their time in their wheelchair, or those who depend on their wheelchair to provide a high degree of upper body stability, a reclining feature allows them to adjust positioning without requiring they leave the chair to do so.
Wheelchair padding - standard or cushioned?
While all wheelchairs offer patients a soft, comfortable seat during transportation, many models provide patients with additional comfort through the use of padded cushions.
This padding also serves as an added safety measure, helping to prevent any injury from collision in the wheelchair. Depending on the patient's needs and the amount of time he/she will be using the wheelchair, padding can provide a supplemental degree of comfort.
Usage - primary, or supplementary assistance?
It's important to remember not all individuals who use a wheelchair do so for the majority of their waking hours. Sometimes, a wheelchair is a supplementary transport, or is used in place of another device from time to time!
For those who do call a wheelchair their primary mode of transportation, considerations will be different than for those who only use a wheelchair some of the time.
Patients who spend the majority of their time in the wheelchair require a chair with features that go beyond standard inclusions.
Ergonomically-designed wheelchairs are specially constructed to provide comfort to these patients. Ergonomic wheelchairs typically include a unique, cushioned seat intended to prevent patients from getting sores, which can appear after extended time spent in the wheelchair.
If you or your loved one will be spending long amounts of time in the wheelchair, it is worth considering an ergonomic wheelchair design.
What else do I need to know about wheelchairs?
Ultimately, a wheelchair is defined by its intended use, which makes understanding you or your loved one's specific needs extremely important. For many patients—especially those who will only use the wheelchair temporarily or in the case that the wheelchair will be reused by different patients—a standard, manual wheelchair meets every need. Other wheelchairs are designed for attending to the needs of patients who will use the chair for an extended period of time.
Most standard, manual wheelchairs feature the essentials: a backrest, seat, footrests, and wheels. These chairs are more portable than their powered counterparts, and are typically less expensive. They also can be used by a multitude of patients, which makes them particularly valuable tools in a hospital environment.
Manual wheelchairs may also be specialized to address the needs of patients who will use them long-term. These specializations most commonly include reclining abilities and ergonomic designs.
Reclining wheelchairs allow patients to adjust their position in the chair and even lie back in the chair. Ergonomically-designed chairs, on the other hand, are modeled to prevent discomfort or skin sores in patients.
Powered wheelchairs are typically more expensive, but worth the price for their ease of movement. Rather than needing to be propelled by a caregiver or the patient, powered wheelchairs have omnidirectional movement at the impetus of a control stick, which is operated by the wheelchair's user.
Who uses wheelchairs, and who would benefit from using a wheelchair?
For individuals who find they are not able to move about as elegantly as they used to, or those who have experienced a setback in terms of mobility due to disease, injury, or surgery recovery, a wheelchair prescription is likely.
Because of the broad range of potential users, the field of people who utilize a wheelchair is extensive. A selection of the many patients who use wheelchairs includes patients suffering from any form of lower body injury (e.g. feet, legs, and hips), walking disabilities, difficulty maintaining balance, paralysis, and many others.
Wheelchairs are also noted by caregivers for their utility. It is not uncommon for caregivers to injure themselves from a manual patient lift, or the exertion of trying to prevent a patient from falling.
Through the use of a wheelchair, the risk of back injury to caregivers is drastically reduced, and patients are spared injury from loss of balance.
How would a wheelchair benefit me or my loved one?
Wheelchairs are among the world's safest and most comfortable methods of transporting patients from place to place. The use of a wheelchair significantly reduces the risk of patient falls and a caregiver injuring himself/herself while trying to keep a patient upright.
In short, wheelchairs are an extremely effective method of reducing risk and providing peace of mind to loved ones.
Does Medicare cover the cost of a wheelchair?
Medicare Part B covers all manual wheelchairs, as they are considered durable medical equipment (DME). However, it should be noted that powered wheelchairs are only covered by Medicare when they are considered medically necessary by a physician.
For this reason, if you feel that you or your loved one requires a powered wheelchair (as opposed to a manual wheelchair), we encourage you to discuss your options with your physician.
Does private insurance cover the cost of a wheelchair?
Though all private insurance policies are different, many policies follow the lead of Medicare. However, this is not always the case.
Before purchasing a wheelchair, be sure to do research into what your private insurance policy covers. Specifically, check your policy's coverage of durable medical equipment (DME), as this should provide the clearest answer.
Summary
Whether manual or powered, standard or ergonomic, the purchase of a wheelchair is an important step to providing you or your loved one with a comfortable, safe means of movement.
Rehabmart is here to assist you through every step of the process, from researching products to delivery.
We encourage you to browse Rehabmart's catalog of high-quality wheelchairs to compare products and find the chair right for you!
Additionally, take a look at our ranking of the Top Five Manual Wheelchairs available from Rehabmart.
Want to learn even more? Find dozens of videos featuring products and caregiver tips like these at Rehabmart's YouTube channel!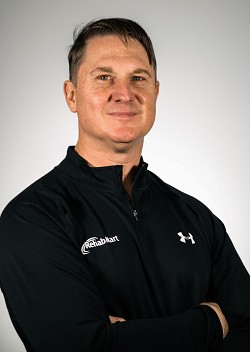 Author:
Co-founder/CEO of Rehabmart, Pediatric Occupational Therapist, husband, and father. Passionate about connecting special needs kids with superb nutrition, sensory integration, and complementary health strategies. Excited about Rehabmart's mission to become the premier online educational platform which empowers caregivers by spotlighting innovative devices and interventions to achieve optimal patient response and recovery.